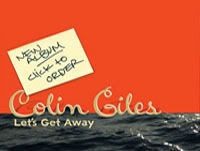 A few weeks ago Colin asked me what I thought of the album, heres what I had to say...(you may have read this before...more interviews and reviews lined up)

"OK I listened to it all the way through this morning. Starts off in a way I didn't expect, but it opened my ears and had my attention, and I can identify with allot of the lyrics. I really love the percussion on Cool Your Jets, which should be a tribute to David Hasslehoff(inside joke)When Go Get It came on, that funky, soulful sound made me turn up the volume and say "Yeah that's the way to do it, dang it!" That is one stand out track right there.

Gimme Gimme I expected to be good but it surpassed my expectations with Colin and Chris dueling on vocals. The rhythm and pace of that song got me boppin' my head instantly. I can go on and on about each song but I'll stick to the ones that really stuck out to where I can't wait to hear em' again. I will say that these stripped down versions of songs previously recorded with The Big Sound like 'Your On My Mind' and 'Theres Something About Her' were pleasantly surprising. I couldn't help but sing along to the beginning of 'Your On My Mind' and sing it the Big Sound Way with the pause "ON MY MIND", excellent work.

On the very top of my list for this album is 'Cecilia'. I can't get it outta my head! It's one of those songs that one can easily find themselves singing to some one they know. The feeling of the song tugs at my heart in a familiar bitter-sweet kinda way.

If anyone is reading this and they have not bought the cd yet, what are you waiting for?! This is a must have for any person who just loves music in general. It spans a variety of styles of music from folk to reggae, soul to rockabilly, and some how ties them all together harmoniously. You'll forget you even paid money for it!"